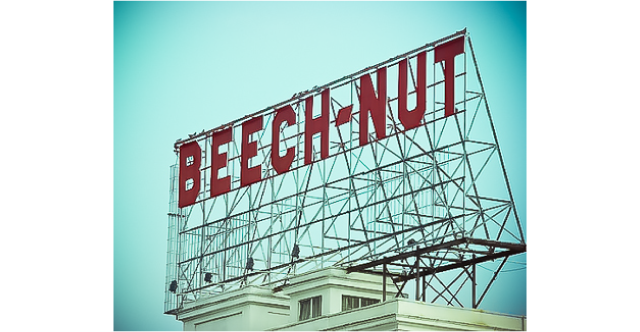 Canajoharie, NY – Perhaps the most recognizable landmark in this small upstate New York town has been lost forever.  Last week the bright red letters of the long-standing Beech-Nut scaffolding sign were removed from atop the 800,000 square foot factory that now sits vacant along the banks of the Mohawk River.
Locals have known that this day was eventually coming ever since the 119-year-old factory suffered significant flood damage back in 2006.  Shortly thereafter, the company announced plans to relocate operations to a new, state-of-the-art factory about 20 miles away in Florida, NY.  Canajoharie's 2,200 residents were suddenly facing the loss of what had been the dominant presence in their village since the horse-and-buggy days of 1891 – a factory where many locals' families have worked for several generations.  "It's going to kill Canajoharie" was a common sentiment among locals upon hearing the news.  Officials even crafted a $100 million-plus package of incentives in an attempt to keep the company's 350 jobs in the area and to help it expand.  But to no avail.  Beech-Nut has already made up its mind.
From there things moved pretty quickly.  The massive new $124 million plant has its official opening in June 2010.  By March of 2011, Beech-Nut had moved the last of its operations to the new factory, ending an 80 year run of baby food production in Canajoharie.  The huge white factory that was once pride of so many has stood silent ever since.  That is until the Beech-Nut sign was taken down.
So why did those letters have to come down?  A Beech-Nut spokesman named Earl Wells III addressed that question and cited a couple of reasons.  Supposedly, deterioration caused by age combined with recent high wind conditions in the area made the sign unsafe.  He also said that the highly visible sign was confusing to some of the customers traveling to their new facility in Florida.
Whether you like that explanation or not, the fact is that the sign is now gone.  So what happened to those beautiful red letters?  Well apparently there was not much of an effort by anyone to obtain and preserve them – a shocking claim when you consider the significance the sign played in the community for such a long period of time.  According to Kelly Farquhar, a Montgomery County Historian, this sign was seen as an identifier, indicating to travelers they were in Canajoharie.  And while Farquhar believes that it possessed great historic value, it's too late to do anything about it now.  The letters simply broke apart as the workers were removing them and were therefore simply scrapped.  Tragic.  One has to think that they could have been preserved had a certain amount of care been used during the removal process.  But with no one waiting to take possession there was no reason not to work fast.
As for Beech-Nut, they have apparently put Canajoharie in their rear-view mirror.  Their new factory has allowed them to increase production across their many product lines while providing what has been called a "shot in the arm" for a different struggling patch of Upstate New York.  They are actually a pretty interesting company.  The timeline of significant events in their history paints them as quite schizophrenic.  One minute they are the first baby food company to have an entire product line free of added salt, the next minute they are being fined for selling artificially flavored sugar water as apple juice.  Very odd.  Anyway, you can read more for yourself on their Wikipedia page here.
Header Photo Credit: Doug Kerr (Dougtone on Flickr)
Story Photo Credit: Michael J. Barnes (MJBarnes on Flickr)