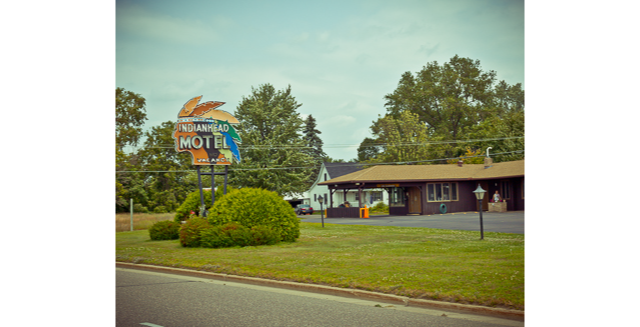 This summer I had an opportunity to shoot the Indianhead Motel in Chippewa Falls while on a road trip through Wisconsin with my wife. The large, vintage neon sign that sits out front depicts the head of a Native American adorned in a brightly colored headdress and is in pristine condition despite it's obvious age.  It is an incredible sign.  So incredible that I spent a full 30 minutes finding the right angles to try and capture it in all its vivid glory.
During the shoot I noticed that there was no visible manufacturers badge – something I have started to look for (and photograph when possible) on every sign I shoot.  Not only does that give me clues to the age of the sign, but it also helps me track the sign manufacturers that had a footprint in a specific region… just another manifestation of being a sign geek, I suppose.  Needless to say, it was disappointing that no production marks appeared anywhere on the structure.
I was able to talk to the owner while I was on the property, an older Asian woman who only spoke broken English, but she didn't know anything about the sign aside from the fact that she had it repainted in 2008 and that it was "beautiful at night".  My subsequent online research yielded little except for a relatively uneventful history of its ownership dating back to 1983.
As a last resort, I emailed Jim Schuh from the Chippewa County Historical Society in hopes that he might know something about the deeper history of this motel and its glorious sign. That turned out to be a wise move… his initial response came back within just a few hours telling me that he was on the case.  The very next day I heard back from Jim with an update.  He had reached out to Paul Lasiewicz, the City Inspector and Zoning Administrator for Chippewa Falls to see if perhaps his database held any clues.  This was a great idea, but unfortunately there was no record of a sign permit on file, most likely, as Paul theorized, because it was installed before permits were required.  So although that was a dead end, I was encouraged and appreciative of Jim's eagerness to help.
In fact, Jim's next move was to do some hands-on digging through the old city directories himself.  This was when the pieces started to come together.  He found out that the first time that the Indianhead Motel appeared was in the 1958 directory (he verified that it did not appear in the 1957 edition) and I reasoned that the sign was erected at the same time the motel was built.  It certainly looks of that same era.  He was also able to identify the original owner of the motel as a Mr. Ernest Cote.
I was thrilled to have this information; it was more than I had expected to uncover.  But that wasn't enough for Jim, who seemed to be as genuinely interested in this story as I was.  He took it one step further and dug up some more information about Mr. Cote.  Specifically, he provided me with the following two captions from a 2005 pictorial history book entitled, Images of America – Chippewa Falls Main Street which round out the story of the man who commissioned this sign:
Just fantastic stuff!  Please consider purchasing this book as a way to support Jim and the city of Chippewa Falls.  I do not personally benefit from these sales, I'm just extremely appreciative of the historic research assistance I was provided from the Chippewa County Historical Society.