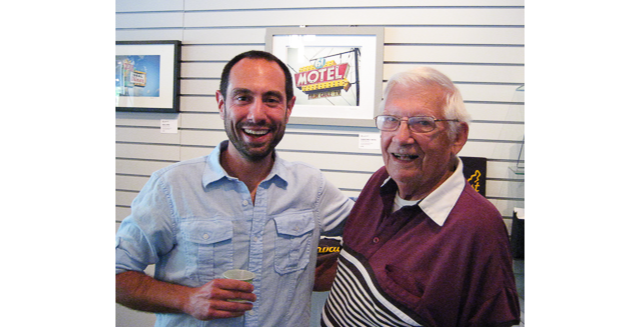 Last night was the opening reception for my Vintage Neon of Minnesota! exhibit and the whole event was a resounding success. I appreciate everyone who came out to see the show and say hi. I met so many all-around wonderful and interesting folks.
In fact, one of the highlights of the evening for me was getting to meet this man, Jim Berglund, who came to the exhibit escorted by his daughter-in-law Julie. I had the pleasure of talking with Jim for a solid 30 minutes, and it quickly became clear that he, although a humble man who would never put it in these terms, is part of the reason my show could even take place. Let me explain…
You see that 61 Motel sign in the background? That sign exists because of Jim. Back in the early 50s, he worked at Pine City's own Scenic Sign Company and was their do-everything man: sales, design, fabrication, installation, you name it – the kind of guy who was inextricably linked to the company's dramatic growth during that time. So much so that in 1959, Scenic asked him oversee a new location they were set to open in Dickinson, ND. The problem was Jim had absolutely no desire to leave Pine City. That was when Jim and his good friend Dennis Thorne (another Scenic employee who was being asked to relocate) decided to start their very own sign business: Sta-Brite Signs, a company that Jim would pour his heart into until the day he retired several decades later.
Jim was just full of other great stories as well: Tales of installing signs before the company even had a boom truck and being forced to dangle off the roof to get the job done; the time they received a shipment of porcelain neon sign shells shaped like the Hamm's Bear to install all over the region; the service calls from customers because mosquitos, attracted to the neon light, had worked their way inside the electrical components and shorted out the entire unit – just to name a few.
Inevitably, shortly after Jim's stories started flowing, word about his connection to the sign had spread throughout the gallery. The crowd was fascinated and many started buying prints of that sign just so they could get his autograph. It was awesome to see Jim getting so much attention, even I had to run out to my car and get a large print for him to sign. And those who showed up after Jim and Julie had left were greeted by others bragging about how they had just met "the guy who made that sign".
It was well-deserved and long-overdue recognition of a man who added so much character to the landscape of the Midwest roadside – whether he realized it at the time or not. So here's to Jim Berglund, a truly great man and a sign legend in Pine City and beyond.