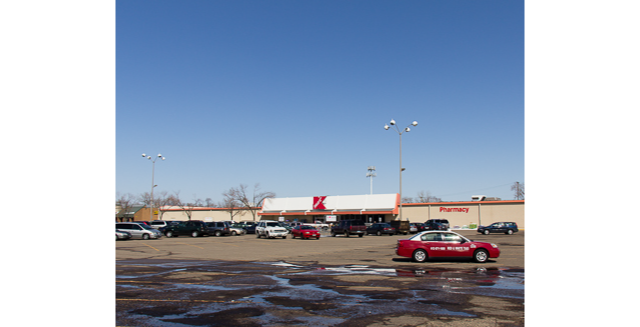 The clear blue skies inspired me to head out and shoot for the first time in way too long today.  It had been months since I've picked up my camera – an almost inexcusable fact, but I mostly blame the inhumane temps that plague Minneapolis during the long winter season.
Today's subject was a Kmart parking lot.  Seriously.  The Kmart on Lake Street is a store I've never actually set foot in and is certainly not my typical shooting location… but it is a destination I've had an eye toward photographing for quite a while now.  And since it's located along the route to some of me and my wife's favorite restaurants I pass it frequently and am constantly reminded of it's position on my ever growing to-shoot list.  Although the somewhat pedestrian-looking building is largely considered an eyesore (and the bane of urban planners), there is one particular feature I just can't take my eyes off whenever we drive past: the sexy Mid-Century light fixtures positioned high above the usually empty parking lot.
Frankly, this lot is ripe for new development and when that inevitably happens, these light poles will not survive that transformation.  So I wanted to make sure that I got some camera time there before the day comes when we're suddenly driving past a construction site and dinner with my beautiful wife is ruined.
That day was today.  I took several shots of the fixtures from multiple angles and these are the ones that I think are the most interesting.  Personally, I think each would look fantastic inside a white mat and black frame.