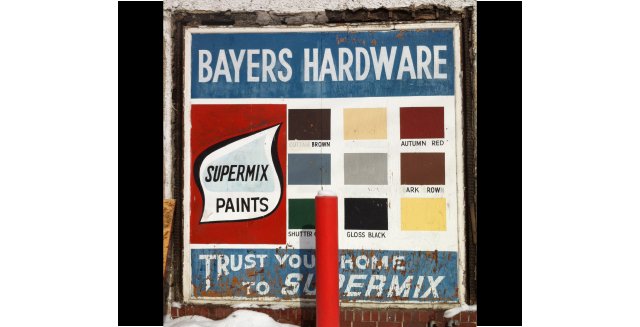 I saw something pretty great on the way home from a coffee date with the wife this morning. Something that made me do an ill-advised three-point-U-turn right in the middle of the street.
There was some work being done to the outside of the old Bayers Hardware store – a business that closed just a few months back after serving my neighborhood for over 90 years.  The crew was hard at work taking down some exterior panels and had uncovered a painted sign that clearly hadn't seen the light of day in several decades:  A beautiful (and still relatively vivid) hand-painted Supermix Paints sign showcasing their logo and nine color swatches.
Surprisingly, one of the workers I started talking to seemed to know a little bit about it.  Well, at least a little about what the sign was installed to cover up.  He told me that it filled a space where a window used to be until after WWII.  That window was used to display china during the years when the raw materials required by tool manufacturers were being used exclusively toward war production efforts.  It's not hard to image that with a shortage of new tools, many hardware stores had to diversify in order to keep afloat.  If that is true, in this case it seems that diversification came in the form of pushing fine dinnerware.
Anyway, I was able to dig up a little history of Supermix Paints, but frankly it's all pretty vague.  What I do know is that the Supermix brand is tangled up in a story of name changes and mergers in the hardware store industry that ultimately led to the formation of the Do It Best chain.  That all makes sense since Bayers Hardware was a Do It Best store.
And make sure and check out the very official looking timeline I created so you have the whole story straight.