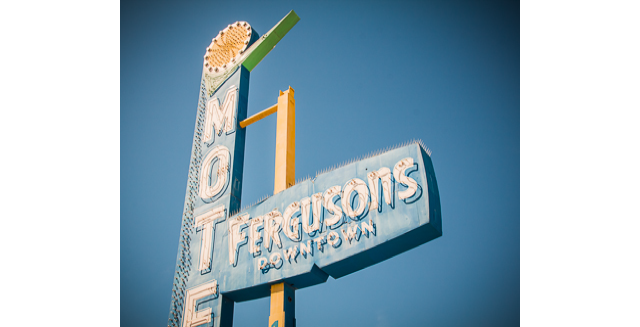 The hours leading up to my then-unclear dinner plans with legendary sign designer Buzz Leming were spent canvasing the forgotten parts of Las Vegas.  Knowing I had just one day free to shoot, I took the early flight out and jumped into a rental car shortly after my arrival.  Under normal circumstances I discover the signs I shoot by chance as I travel the backroads… but given the vast number of vintage signs in the Vegas area and my limited amount of time, I approached this trip with a very specific plan.
Despite having a rental car, a large part of that plan included getting around on foot.  This was specifically true of the 1.5 mile section of Fremont Street between Eastern Avenue and downtown.  That strip is so densely populated with vintage neon that driving just doesn't make sense.
As I walked west across 11th Street I came across a stunning tall & ornate blue & gold sign that read "Ferguson's Downtown Motel".  The grounds of this shuttered motel were completely fenced off but the sign was still in relatively good shape.  I immediately started encircling the sign looking for the best camera angles.  I had only managed to snap about 3 shots before I heard a voice shouting at me from the street.  I looked up and saw a middle-aged man in jeans and a Hawaiian shirt walking toward me across Fremont Street with some plastic grocery bags slung over his shoulder.  "Are you with Zappos?" he said.
"No, just a guy who photographs vintage neon signs" I replied.  He introduced himself as Peter and as we started to talk it became clear that he was a local – within the first 30 seconds of our conversation three different people walking past us on the sidewalk said hi to him.  Not like he was famous, more like he was just a well-liked guy who'd been in the area for a while.
I asked him why he thought I was with Zappos, which struck me as a completely random question.  I turns out that Tony Hsieh, the founder of Zappos, had purchased the Ferguson's property for a cool $5M in late 2012 – just as he's been doing with many of the other surrounding parcels in this area.  I guess it's not uncommon for associates of Mr. Hsieh to stop by for one reason or another.  Since Peter seemed to know a surprising amount about this property, I asked if he knew what the plans were for it.  He said he'd heard rumors that it was going to be turned into affordable artist's lofts but wasn't sure.  He also had no idea whether they would keep the sign, but if it's going to be an art-centric space, I assume that would bode well for this signs future.
Then, out of nowhere Peter says, "You wanna go inside?"
Hell yes I do.
Turns out Peter used to be a clerk at this motel when it was still in operation and now works as a groundskeeper/property-watcher.  We walk over to the gate in the chain link fence, he unlocks it, and we proceed across the parking lot to the motel office.  At this point he says, "Make yourself at home, I gotta go put these beers in the fridge" and headed toward the back of the property.
I start roaming around open-air hallways of the 2-story building, peering through the windows to see rooms in various states of disarray – everything from 'nothing-but-a-pile-of-filthy-
linens' to 'murder-scene-rampage-type-
damage'.  Fascinating stuff.  After realizing that all of the rooms were locked, I quickly made my way toward the sign.  I was now on the other side of the brick wall that sits adjacent to the sign which at one time housed the motel pool.  Having since been filled in, this area was now basically just a concrete slab.  I started shooting the sign again – this time from perspectives unavailable to those on the outside.  How great is that?
Just then, Peter comes into the pool area and tells me that I have to leave.  He had just gotten a call from his boss who was on her way down to the property.  Had Peter not been so laid back and friendly I might have thought this was his way of getting rid of me, but I really didn't get that impression.
So even though my time behind-the-scenes at this motel only lasted about 15 minutes, it sure was great having an opportunity to explore a piece of Las Vegas history that might not be around much longer.
Thanks Peter.