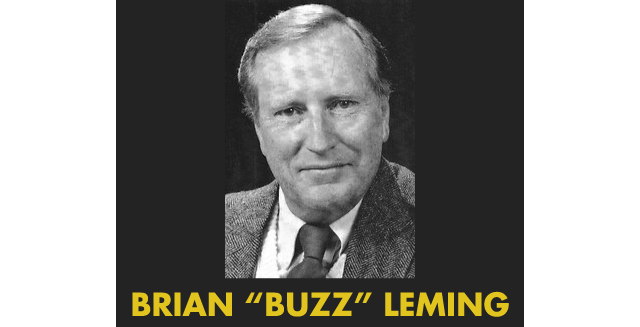 One week before I left for a recent trip to Las Vegas I came across an article about man named Brian "Buzz" Leming, perhaps the last living designer from the golden age of Las Vegas neon.
As I read more about him that afternoon, it became obvious to me that this recently retired signage pioneer was a true legend.  His highly distinguished 50-year career started modestly in 1962, when the then 22 year old Leming answered an ad for part-time design work at Western Sign Co. simply because he liked to draw.  Needless to say, he found himself extremely well suited to this type of work.  By 1964, only two short years later, he joined the YESCO, the preeminent sign company in existence.
The 24 year old suddenly found himself working alongside the finest designers in the industry including Jack Larsen, Kermit Wayne, Ben Mitchum and Hermon Boernge – these were the guys reshaping the landscape of downtown Las Vegas.  Over the next several years Buzz would be instrumental to the design and fabrication of signage for dozens of hotels and casinos including Caesar's Palace, Fremont Hotel, the Las Vegas Club, the Coin Castle, California Hotel, Westward Ho, Sahara, Rio, The Barbary Coast (twice), Gold Coast and the Cannery.
I immediately knew that I had to try and meet Buzz while I was out there.  While I was reading various articles about him, I found out that he was heavily involved with the
Neon Museum
and it's Neon Boneyard, which naturally features many of his since decommissioned creations.  I figured that reaching out to them was my best chance at getting in touch with the man himself.  So, I submitted a message through the museum website asking if they would provide me with Buzz's contact information so that I could "contact him regarding a social engagement".  24 hours later a response came back from a museum admin named Jennifer who politely informing me that they don't give out any information about their members (understandable) but that they would be happy to pass along any message that if I emailed it to them (fantastic!).  I immediately shot back the following message with a request that it be passed along soon because of it's time-sensitivity:
Mr. Leming,

My name is Bill Rose.  I travel the country photographing vintage neon signs and documenting their history as a way to preserve an endangered American art form.  Needless to say, I have great admiration for you as one of the pioneers of this trade.

I will be in Las Vegas next week and would like to invite you to dinner Monday night (3/18) if you are willing and able.  You pick the restaurant and the time, I will pick up the tab.  I have no motive for this other than the chance to meet a legend and hopefully hear some stories from neon's golden age.

I realize that this is an unusual request given we have never met and would understand completely if you decline.  However, if you are interested, please contact me at either [phone] or [email] so we can make specific plans.

Either way, thank you for the contributions you have made to the American landscape.

Bill Rose

Recapturist.com
 I was very excited.  An article published less than a year prior talked about Buzz's willingness to answer questions about his career, which in my mind was a good sign.  I had a visions of spending a few hours over dinner and drinks listening to stories about the old days.  So with 6 days left until my trip, I was optimistic that this plan was going to come together.
Then, nothing.  I landed in Las Vegas having not heard anything back from Buzz or the museum.  Not only was I disappointed that the dinner wasn't going to materialize, but I didn't have any idea why… Did my message ever get passed along? Did he get my message and simply not respond?  Did he decline my offer and the museum never closed the loop?  The lack of a response didn't just sit right with me and seemed out of character for all parties involved.  Regardless, I tried to put it out of my mind.
As I was settling into my hotel room late that afternoon my cell phone rang – it was a woman named Danielle Kelly… the Executive Director of the Neon Museum!  She apologized profusely telling me that my message was never forwarded to Mr. Leming, but that she was going to personally call once we hung up to pass along my message and contact info.  Suddenly the prospects of this dinner were more alive than ever before.
No more than 10 minutes later my phone rings again.  It's Danielle.  I could tell from her tone that she didn't have good news… she proceeded to tell me that Buzz declined the offer.  It turns out that due to some health issues he rarely leaves his house anymore and just wasn't feeling up to it.  Whether that was the real reason for his decline or not (and I happen to believe it is) it was nice of Danielle to share that with me.  It wasn't the news I wanted but at least I had some closure on the matter.
And as a bonus, Danielle started to tell me a little bit about Buzz, who she had come to know pretty well during her time at the museum.  One story she told me in particular was about the time she asked him about his favorite sign he ever worked on.  His answer was the Barbary Coast sign, a response that surprised Danielle (given that sign's somewhat tame nature in comparison to some others) until she heard the explanation… it turns out that the Barbary Coast project was the only one during his long career that he designed independently and didn't change between the design and the fabrication phases.  Typically all designs required changes based on client feedback when they are submitted – but not this one.  In fact, when the Barbary Coast became Bill's Gamblin' Hall in 1987, they kept the structure of the sign intact and simply installed new letters.  That whole series of events was a great source of pride for Buzz, and it came through in the way Danielle told the story.  It was clear from the way she spoke of Mr. Leming that he was a kind, friendly man who was passionate about the work he did.
And although I never did get to meet Buzz Leming in person, I feel like I got a small glimpse of the man he is thanks to Danielle.  I consider that a resounding success.