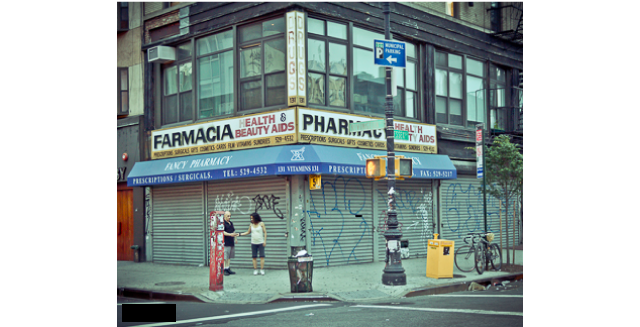 Fancy Pharmacy (New York, NY) – We found ourselves on the southeast corner of Rivington & Essex early one summer evening while walking around the LES.  Looking diagonally across the street, the weathered painted signs on the facade of a pharmacy caught my eye.  As soon as I signal changed I walked out into the crosswalk, stopping halfway to get the perspective I wanted on the storefront.
While composing the shot I was aware of two people walking through the frame in opposite directions – a woman walking east toward a man heading west – nothing out of the ordinary on any city street in the world.  But right before I hit the shutter the man stopped and turned as the woman passed him, what I captured in that shot is what you see here…
a drug deal
.  I knew it as soon as I released the shutter.
If this shot was a still from a video, the following frames would show the man's eyes looking up to see me with my camera and stare me down as I continued walking across the street.  I had gotten his attention for obvious reasons and he was clearly curious about my intentions.  Luckily, we were headed to dinner just a half block away and ducked into the restaurant without incident.
The irony of an illegal drug deal happening in front of a legal drug business was not lost on me.  Hell, there's even a painted sign that reads "drugs" serendipitously placed above their heads.  It just goes to show that you never know what you're going to capture when documenting vintage America.
You can see the original shot full size here.