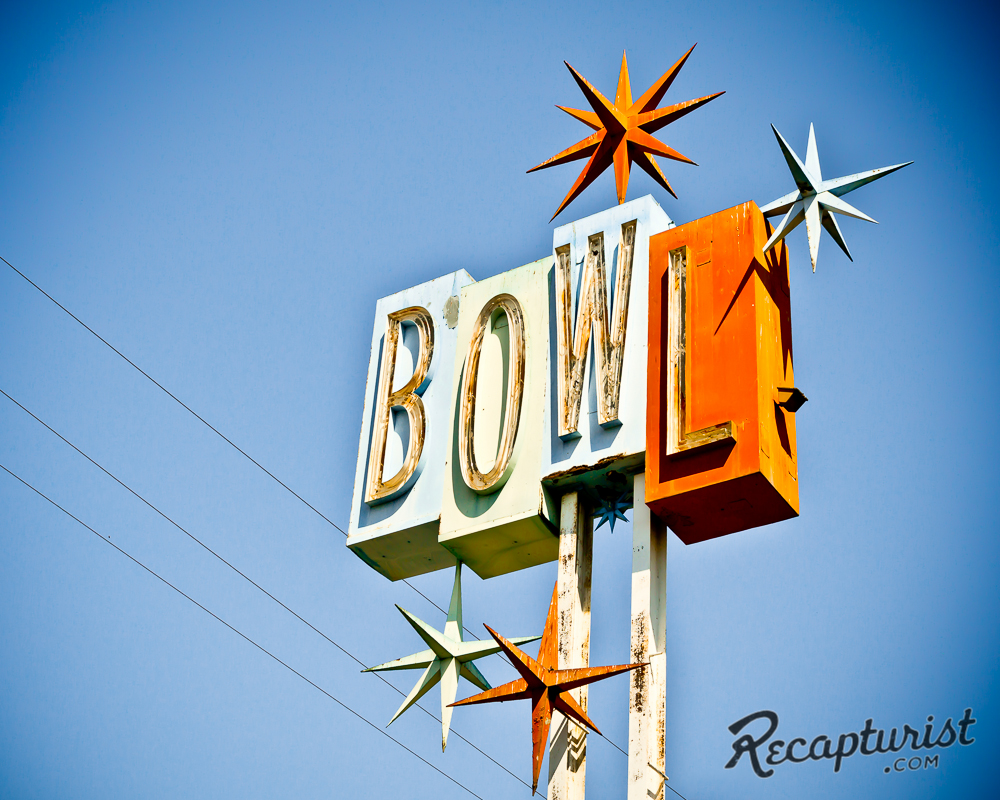 Premiere Lanes (Santa Fe Springs, CA) – In the fall of 2012, I found myself in Los Angeles with a rental car and a few hours to kill. I knew of this sign, and knew the part of town it was in, but had no idea if it was still standing (it was on the Society for Commercial Archeology's 2011 endangered list – and the building itself is long gone) or how hard it would be to find. But after seeing pictures of it online, and reading the following description from the SCA, I knew I had to find it:
Revealing the spirit of the space age, the sign is adorned with nine "sputnik" star forms. Tall with a huge signboard, the sign, though for sale, is too big to be tucked away in a museum. With no local preservation ordinance to protect it, it likely will be dismantled and parted, with its sputniks going into private ownership. Premiere Lanes, a major regional bowling center, and once home to a chapter of the Japanese-American Citizens League, closed in 2008. While there are several dozen space-age signs across the United States, perhaps none have more sputniks or is of this scale.
I headed out, and thanks to a series of fortunate turns I came across it almost immediately. The only problem was that the property was completely fenced off and covered with chest-high brush on the inside… but that's hardly enough to keep me from getting the shot. I was able to slip through a seam in the fence line which enabled me to get shots that otherwise would have been impossible. And if you go there yourself, keep an eye out for the Lenspen I lost while stepping through the brush.
LOCATION:
Bowling Alleys
Neon Signs
Vintage Signs