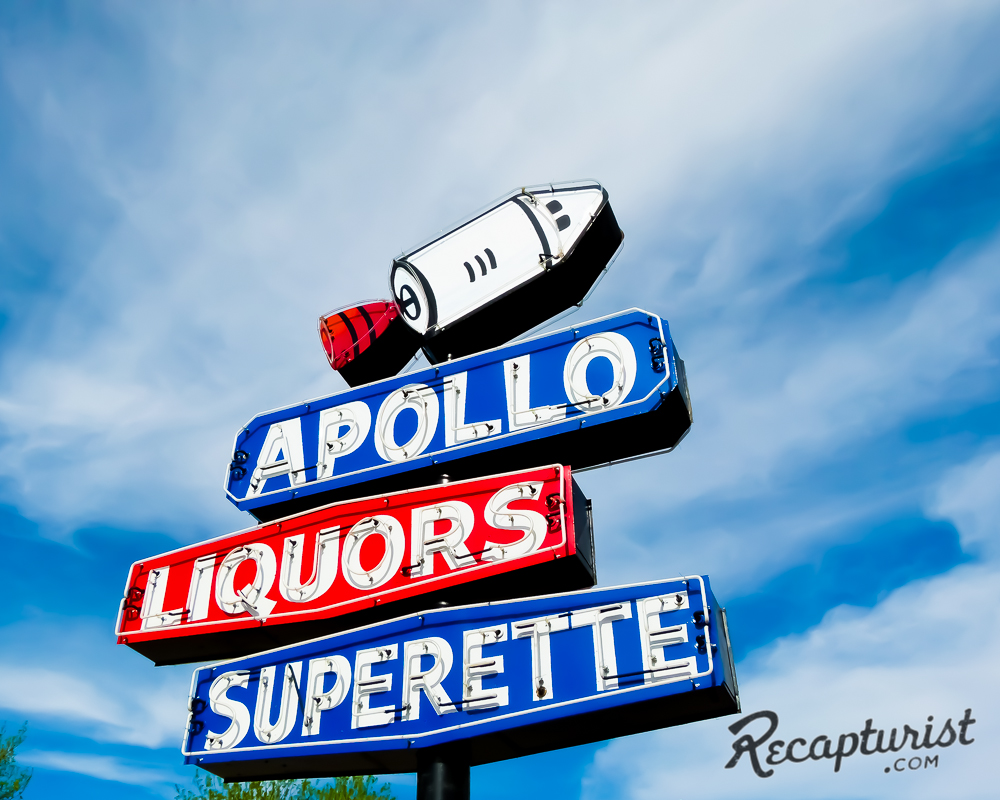 Apollo Liquors (Austin, MN) – The sign that sits outside of this southeast Minnesota liquor store is impossible to ignore. It's beautiful mid-century design and vivid colors might just take your breath away if you're not expecting it. The structure is so well maintained that people unfamiliar with its history could reasonably think it had just been installed within the last few weeks. But this is no faux-retro advertising ploy; this sign was installed back in 1970 during the height of the Apollo Space Program.
To understand how this all came to be, you must first know the story of the incredible man who commissioned it: a Greek immigrant named Nicholas Kolas. Mr. Kolas, the youngest of 12 children, grew up on a family farm in Patras, an ancient port town in Western Greece. At the age of three, his father was tragically killed by a bull, leaving his mother to raise the children and keep the farm running alone. She instilled in her children the importance of getting an education, something that was deeply engrained in her baby boy when he left for American in 1955.
Arriving in New York and eventually finding his way to live with his sister in Austin, Minnesota, he enrolled in high school to learn English. His work ethic paid off in the classroom and at the odd jobs he maintained in order to fund his future education. In 1962, he became the first member of his family to graduate college, receiving his degree from the University of Minnesota only 7 short years after first arriving in the country.
Fast forward to 1969 and Mr. Kolas was searching for what to name the liquor store he was set to open. He struggled to find a name that both paid tribute to his Greek heritage and conveyed his excitement about storming into the future. The news of Apollo 11 successfully completing the first manned mission to the moon dominated the headlines that summer, and then one day it suddenly all became clear: Apollo! It was both a space program and a Greek god. The success of that first store served as the launching pad for Mr. Kolas' growing enterprise which now consists of six locations across the region.
LOCATION:
Liquor Stores
Neon Signs
Vintage Signs